The Bay Area wants to be known at the "Electric Vehicle (EV) capital of the United States." To that end, area elected and business leaders recently announced the launch of a CEO-level "EV Strategic Council" along with $5 million in new funding.
Led by the region's big city mayors, regional officials and cleantech industry executives, the Bay Area EV Strategic Council aims to develop the infrastructure needed for an influx of new electric vehicles now available and soon to arrive from GM, Nissan, Tesla, Toyota, Mitsubishi, Ford, BMW and others.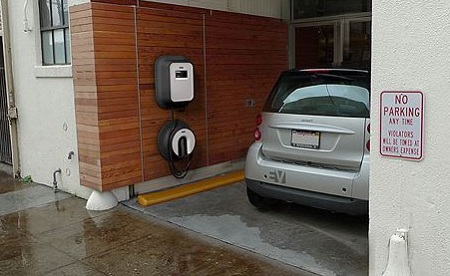 The EV Strategic Council is starting its life with full coffers, announcing $1.5 million from the California Energy Commission – supplemented by $2.5 million in local public and private funds – to install more than 300 new public EV chargers, including 19 fast chargers capable of recharging a Nissan Leaf in 20 minutes. The council has also scored $700,000 from the U.S. Department of Energy, the California Energy Commission and the Bay Area Air Quality Management District to complete regional EV strategic plans encompassing 12 counties in the San Francisco Bay and Monterey Bay regions.
These awards are compliment to a $625,000 grant administered by the Association of Bay Area Governments, the EV Communities Alliance and the Bay Area Climate Collaborative to support Bay Area and South Coast cities in becoming "EV-ready." They're not done yet: Count a $546,097 RFG settlement funding grant for an EV car sharing pilot program which City CarShare administered by the Bay Area Air Quality Management District covering the purchase of 10 new plug-in Toyota Prius vehicles and an outreach campaign to the members of City CarShare on the benefits of EV use.
Silicon Valley Leadership Group CEO Carl Guardino, a founding member of the EV Strategic Council, said: "Who would have thought even five years ago that the Bay Area would emerge as a center for electric vehicle manufacturing? Yet here we are with Tesla and Toyota in a joint venture, two new EV factories coming on line (Tesla in Fremont and Coda in Benicia), and GM, BMW and Daimler all working on EVs and other R&D projects here in Silicon Valley. By working together, government and industry can extend this leadership position by making sure all our cities and counties have the EV charging infrastructure and EV-friendly policies we need."
Help Carbonfund toward their goal of planting 1,000,000 trees. Subscribe to Green Earthling Deals by Friday, Nov. 25, 2011, and EarthTechling will donate $1 for every new subscriber. See contest rules for details. Sign up in the upper right-hand corner at EarthTechling.com or right here.