ECOtality and Cracker Barrel Old Country Store recently unveiled a new fast charger for electric vehicles at the Lebanon Cracker Barrel location in Tennessee. This is the first of 12 Cracker Barrel restaurants in that state that will install Blink DC Fast Chargers, allowing owners to recharge their electric car's batteries while they chow down.
The Blink charge stations can recharge an electric car's batteries to 80 percent capacity in about 30 minutes—which is one of the  fastest charge rates currently available. Each Blink charge station can recharge two EVs at once via the two charging ports, and  features a dock for storage and protection, plus a data screen.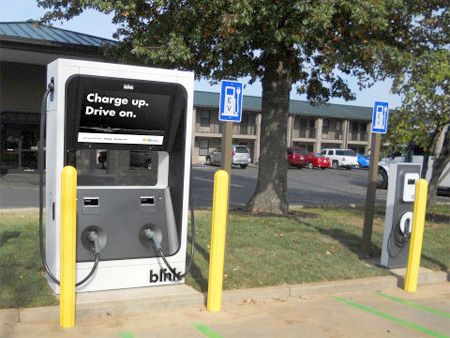 The Cracker Barrel chargers are part of a push to  install EV recharging infrastructure along highways in "the Tennessee Triangle," a 425-mile stretch of interstate highway connecting Nashville, Knoxville and Chattanooga. "We identified destination locations like Cracker Barrel as ideal for charging stations—places where people can grab a meal, charge up and go," said Jonathan Read, CEO of ECOtality.
ECOtality is the project manager of the EV Project and will ultimately oversee the installation of approximately 14,000 commercial and residential charging stations in 18 major cities in six states and the District of Columbia, the company says.