If you happen to be both a geek and someone concerned with the environment, custom motorcycle company Parker Brothers Choppers, which also constructed a Batman inspired bike, have quite possibly created your dream vehicle – a Tron electric motorcycle.
We first caught news of the product over on the Nerd Approved blog, who noted high end seller Hammacher Schlemmer already has a gasoline version that retails for $55,000. If that chunk of change is too high, the company is having a contest to give one of the bike's away.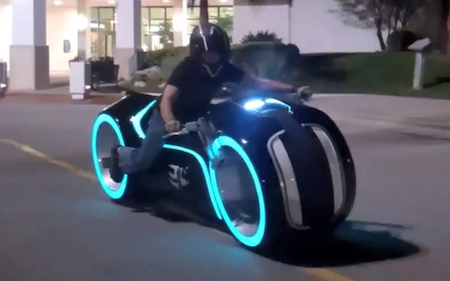 The novelty motorcycle company turned to Evolve, an electric motorcycle company in New York which has more photos of the bike on Facebook, for help on the vehicle, which is said to have a 96 volt electric motor and lithium-ion battery system.
The electric vehicle isn't available to the public yet, and we assume that if does hit the market that price will be pretty steep. Still, would it be worth? Probably. It's Tron after all. Check out video of the bike in action below: