Tesla Motors, always one for a bit of showmanship, invited press and early Model S buyers to its factory over the weekend to update everyone about Model S progress. It looks as if buyers were wowed, and some media floored, by word from Tesla CEO Elon Musk that the electric car company has a faster Model S planned – one said to be quicker than a Porsche 911 Carrera.
Green Car Reports notes the sportier Model S would cut "the brisk 0-60 time of the standard Model S from 5.6 second to under 4.5 seconds," while still retaining the same 85 kilowatt-hour, 300 miles-per-charge battery pack found in the slightly slower model. In addition, Tesla plans to extend the range of the Model S to a maximum, depending upon configuration, of 320 miles.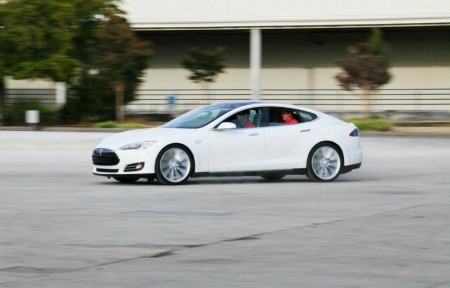 The Model S Beta, as the most current model is called, was showcased to customers who came down for the event at the former Toyota NUMMI facility in California. Reuters reports visitors to the factory during the open house were offered a "a short drive in a test version of the Model S." It is said Tesla now has over 6,000 customers who have reserved a 201 Model S, which has a starting price of $49,900, after a federal tax rebate.
Tesla notes the base model will have a range of around 160 miles for the price you are paying. The 230-mile range option is priced at about $10,000 more than the base and the 300-mile option at about $20,000 more than the base. The company is phasing out the Roadster in 2012 to focus upon the Model S, Reuters said, and a SUV currently called Model X is also planned for sometime in 2013.