The name "Kawasaki" may be most readily associated with motors of the two-wheeled, gasoline-powered variety; but the Japanese multinational company has recently announced that it will soon be getting into the tidal power generation business.  Kawasaki Heavy Industries (KHI) has announced that it will work with Okinawa Electric Power and Okinawa New Energy Development to prepare a new tidal power generator technology for testing off the coast of Okinawa, Japan. Then, KHI will test the technology at the European Marine Energy Centre (EMEC) in Orkney, Scotland.
The EMEC is the first center of its kind to offer developers an opportunity to test full-scale, grid-connected prototypes under high velocity wave and tidal conditions. High velocity currents at the tidal test site at the Fall of Warness, where the KHI technology will be tested, reach almost 4m/sec (7.8 knots). The facility offers seven test beds at depths ranging from 12 to 50 meters, in an area of over three square miles.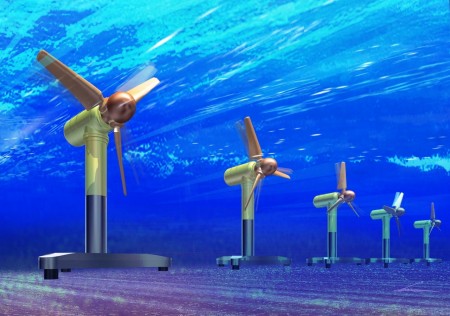 According to Anne MacColl, chief executive of Scottish Development International, which facilitated the collaboration between KHI, EMEC and the Scottish Government, KHI's decision to test its new tidal power generation system at EMEC is "testament to Scotland's growing international reputation in emerging low carbon technologies." Scotland has around one quarter of Europe's tidal resources; and building a partnership with a large multinational corporation like Kawasaki will help the EMEC as it expands its operations to key locations with significant tidal resources in the Americas, Asia and continental Europe.
Kawasaki supplies a number of renewable energy products, including everything from small hydraulic power generation systems to biomass, wind, and solar power systems. The company has several commercial power generation projects in Japan.