The Ohio State Buckeye Electric Motorcycle Race Team may not get all the pub that the OSU football has garnered of late, but that's just fine with them. Instead of inciting controversy with record speed, the E-Bikers are content to simply set speed records.
Formed less than a year ago, the OSU team recently set an East Coast Timing Association (ECTA) record for electric motorcycles in the Omega class, known as the altered partial streamlined class. The new certified record is 112.349 MPH, destroying the old record of 53 MPH. The ECTA, located in Maxton, North Carolina, is a one-mile concrete track specially designed as a place to run speed trials in the eastern half of the United States.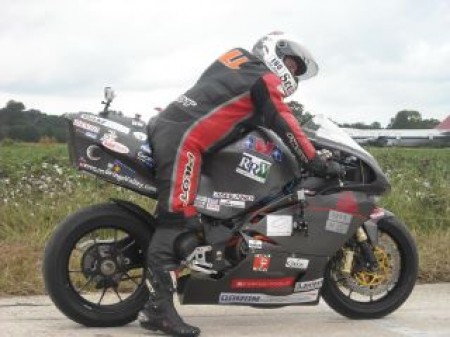 These Buckeyes are not satisfied with their new record and believe that there's more speed to be found in their bike. "The ECTA record is an outstanding result, especially considering that the Electric Motorcycle Race Team has barely one year of life. The result obtained at Maxton represents a reward for the hard work and the commitment shown by the team members through the year, but also a great starting point to launch the team into an exciting new season," says Marcello Canova, faculty advisor and mechanical engineering professor. The team plans to continue work on the motorcycle, improving battery management function and maximizing torque for next season.
The bike, named the RW1, is built on a 2007 MV AGusta F4 frame. It sports a Remy HVH250 motor controlled by a Tritium WaveSculptor 200 and powered by a 460 volt lithium battery pack, close to the voltage of a small electric car! The team still has a bit of work to do if they want to set a speed record for an unlimited electric motorcycle, with some other bikes setting high speed records out at Bonneville.