General Motors is using the 100 anniversary of its Chevy brand to underscore its commitment to electric vehicles and to introduce what it says will be the future of urban transportation: The Chevy EN-V.
The company said that work on their next generation of EV concepts had begun and that all future EVs would wear Chevy's iconic "bowtie" badge. The EN-V, which stands for Electric Networked Vehicle, is the automaker's step toward creating, "safe, connected, zero-emissions personal transportation."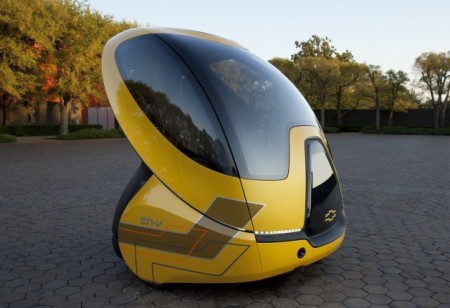 The updated pod-like EN-V is a two-seat, electric urban mobility concept that includes features such as climate control, personal storage space and all-weather and road condition operation while preserving key elements of the original EN-V, such as the small footprint and maneuverability. It will also retain its battery electric propulsion, connectivity and autonomous driving capabilities.
EarthTechling readers will remember we first took note of the EN-V when it was wheeled out for the World Expo 2010 in Shanghai, China. We also had a chance to try out this EV of tomorrow first hand at the 2011 Consumer Electronics Show back in January.
"The Chevrolet EN-V has the potential to reinvent transportation in key markets by creating a new vehicle DNA through the convergence of electrification and connectivity," said Chris Borroni-Bird, GM's director of Advanced Technology Vehicle Concepts. "It provides an ideal solution for petroleum- and emission-free urban transportation that is free from congestion and crashes, and more fun and fashionable than ever before."