T3 Motion, a California-based company that specializes in electric personal mobility vehicles, recently announced the debut of its Advanced Non Lethal Crowd Control Electric Vehicle (NLRV), which the company says is "designed specifically to provide law enforcement with humane and safe initiatives used during riots and violent protests." We've made note of this company before because of its cool electric car prototypes, but this one has us scratching our heads a little.
The T3 press release headline proclaims that the "humane crowd control" NLRV features two guns with capability to shoot 700 non-lethal rounds a minute per gun. If you think that's intimidating, the rest of the press release is even better: "Semi-automatic, non-lethal launchers will be stowed away and are easily accessed by the officer in the event of a violent outbreak. The launchers will be compatible with various types of non-lethal ammunition including pepper balls, water balls, dye markers or rubber projectiles, none of which would seriously injure rioters. Each vehicle can store up to 10,000 rounds, allowing for long deployments that could not be achieved by an officer on foot. High-intensity LED deterrent strobe lights, specifically designed to deter a disorderly crowd, are incorporated into the vehicle."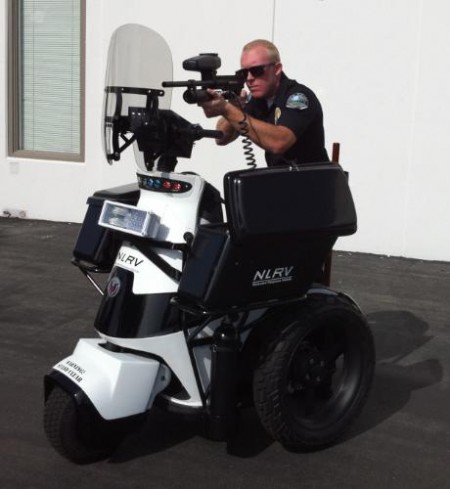 According to T3 Motion CEO Ki Nam, "As the number of global riots and protests increase, law enforcement agencies are adjusting tactical responses to humanely and effectively restore the peace and control the crowd. The T3 NLRV offers agencies the tools to swiftly take control of the situation while preserving the safety of citizens and police departments alike."
The T3 NLRV was unveiled at the International Association of Chiefs of Police conference in Chicago recently. The EV also features a riot shield, puncture-proof tires, a PA system, video recording capability and high-capacity, swappable batteries.
Check out T3's video below to see this baby in action. We are alternately intrigued and disturbed by this particular electric vehicle, having visions of modern day chariots with armed warriors atop them – it will be interesting to see if law enforcement decides to adopt it in mass amounts.
Additional reporting by Nino Marchetti
Become a Green Earthling Deal email subscriber by Friday, October 28th and you could win a wireless solar keyboard from Logitech! Either Mac or PC, it' your choice.