Solar power, free of charge, for electric vehicles and electric bikes? It may sound like a pie-in-the-sky green fantasy, but it's a reality in southern Germany, Kyocera reports, thanks to a solar carport designed and installed by Blue Group – using (of course!) Kyocera solar modules.
This EV-charging shade structure was built to address the needs of German motorists and cyclists, who are increasingly embracing electric propulsion technology. Power is provided via 248 high-efficiency 215-watt Kyocera solar modules with an output capacity of 53.32 kilowatts.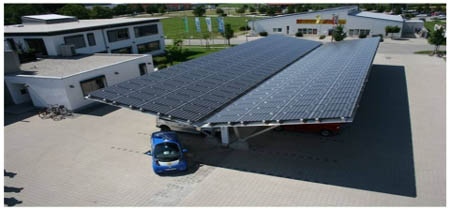 This project is the latest in a series that Kyocera has been involved with along similar lines, such as a solar carport that produces power while providing shade for cars at the Solar Grove in San Diego; Japan's Solar Cycle Station for charging electric bicycles; and the Eco-Shell – co-developed with Sekisui Jushi Corporation — a multi-purpose solar-powered shelter for use in public places such as bus and taxi stops, benches and walkway coverings.
Hopefully, as electric vehicles take off in the United States, we'll see solar shade structures like this cropping up parking lots and rest areas across the country (especially throughout the Sunbelt).