Advanced vehicle tuning company BRABUS announced two new green car projects with the support of Boston-Power and Protean Electric at the Frankfurt Motor Show 2011, unveiling details of both a hybrid and an electric vehicle.
Both cars are based on the Mercedes Benz E-Class vehicle, and the hybrid version, seen in the photo below, is equipped with two rear-wheel electric motors in combination with an direct-injection, diesel internal combustion engine, giving the car a 0 to 60-mph time of 7.4 seconds.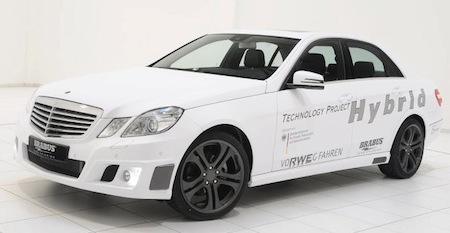 The electric vehicle, seen in the photo below, is outfitted with four regenerative braking, in-wheel, direct-drive Protean Electric motors that produce a total of 320 kilowatts of energy, and a 56 kilowatt-hour, liquid cooled, Boston-Power lithium-ion battery system.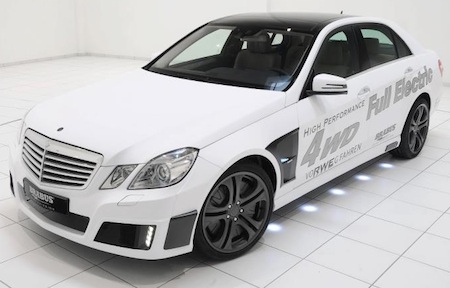 The modified electric car has a stated top speed of almost 140 miles per hour, and a range of almost 220 miles, very impressive for a vehicle that was essentially overhauled to become a green car. Then again, the Germany based BRABUS has an excellent track record of working with high-end brands like Tesla Motors, so maybe we shouldn't be surprised at the impressive performance specifications.
EarthTechling is launching a weekly green deals service in October called Green Earthling Deals. Sign up for the weekly email by Monday, September 19th and you'll be entered to win a custom iPad or iPhone case from the extraordinary designers at Grove. More details can be found on EarthTechling's Contests page.