We first found about a new electric vehicle from Austria over on the Electric Cars Report blog, and had to learn more about the interesting green car that is planning to debut at this year's Frankfurt Auto Show. Competition for attention at the international convention will be high this year, as we've seen several companies planning to unveil cars, including Audi, Renault, Peugeot, and even a new vehicle from Croatia.
Details of the new Austrian car designed by Kiska , called the KTM E3W [original page in German language], are scarce at this point. But, according to the manufacturer, the design was originally based on an electric motorcycle prototype in 2010. Since then, the idea has evolved to be a two-seat, three-wheel electric car.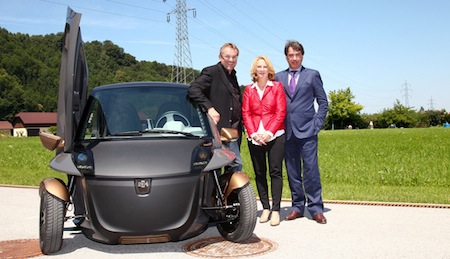 Powered by a lithium-ion battery system and a 15 kilo-watt electric motor, the barely over 1,000-pound E3W has a top speed of just under 60 miles per hour, with a range of roughly 60 miles.
Production of the car is said to start in 2013, with a projected cost of somewhere in the neighborhood of an incredibly affordable $10,000. The only question now is whether or not drivers in Europe will embrace the unusual design of the car.