There are people who see the advantages of an electric car as being a practical commuter; a clean, green, responsible way to get from point A to point B; a way to announce to the world that they've made a fiscally smart, environmentally responsible choice when it comes to their transportation options. Then there are people who just want to go fast. Really, really, really fast.
Spanish-based Quimera, an international project management company specializing in clean energy, is set to debut their all-electric super car, the AEGT01. This is no urban commuter. This is a mean, green (actually, it's a ultra high tech carbon fiber black) speed machine.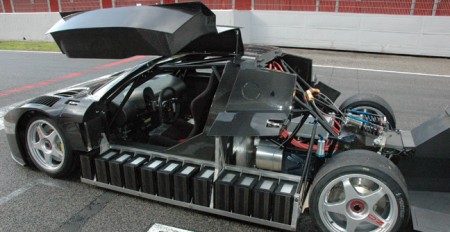 Already touted as being the "most powerful electric car on earth",  the AEGT01 has a blistering top speed of 180 mph and goes from zero to 60 in a neck snapping three seconds. (In comparison, the Nissan Leaf has a top speed of 87 mph and can hit 60 mph in about 10 seconds). According to sources, the car's three electric motors are driven by three high power lithium polymer battery packs and deliver and astonishing 700 horsepower and more than 1000 lb. ft of torque. In a rare feature for an electric car, the racer's massive output is managed via a multi-speed transmission.
Aside from burning rubber around the track and just sitting there looking awesome, Quimera hopes to transform the futuristic, gull-wing car into a research and development laboratory by assessing the innovation developed and verifying the appropriate application in streetcar manufacturing.