Retail chain Walgreens has announced that the company will install hundreds of charging stations in select cities across the United States. Walgreens has partnered with 350Green, a company that focuses on charging stations outside the home, and will start to rollout the program in New York City.
According to the companies, as many as 60 charging stations will be installed around the city before the end of the year, the majority if which will be Level 2 units, but at least 10 will be fast-charging, DC Level 3 units.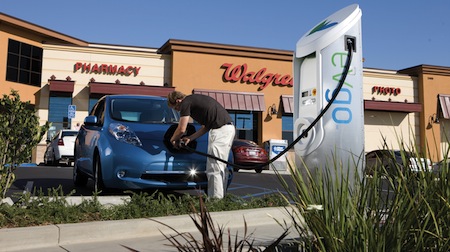 350Green is set to install 450 of the 800 stations Walgreens is planning to deploy in the cities of Houston, Dallas, Chicago, Boston, Denver, Los Angeles, San Francisco, Washington D.C., and in the states of Florida, New Jersey, Oregon, and Tennessee. Other charging stations will be deployed by NRG Energy, as seen in the image above.
The selected regions that will soon see charging stations at Walgreens mirror the areas that the much-reported, partially government-funded program The EV Project has selected as well, suggesting that some parts of America will have a good array of electric vehicle infrastructure, while others will be left behind.