Results of a yearlong study about user habits with electric vehicles, conducted by Aston University in the United Kingdom, have been released to the public, and provide some insights into England's drivers and their transportation tendencies.
The fleet of electric cars used for the data-gathering comprised 25 Mitsubishi i-MiEVs and 20 Smart Fortwos. Combined, the cars were driven approximately 147,000 miles. While the study found some interesting specifics, the main takeaway was that despite often-unfounded consumer concerns, the all-electric cars were more than sufficient to meet the needs of urban drivers.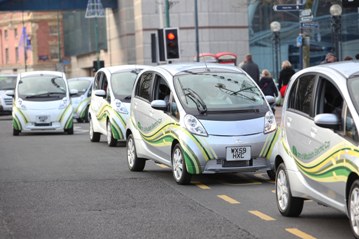 Drivers in England, the study found, very rarely used more than half of the car's battery charge, and most people habitually charged their vehicle while leaving it parked at home or work – even though the battery hadn't dropped below 80 percent charged. This led analysts to conclude that public charging stations might not be as necessary as originally thought.
Typical charge spans were less than three hours, peaking between 7:00 and 9:00 a.m., 6:00 p.m. to 9:00 p.m., and after 11:00 p.m. when drivers would schedule charging to take advantage off-peak rates from the smart grid. The average electricity cost of each charge was equivalent to that of a load of laundry in the country, or roughly $1.