The Seoul Amusement Park in South Korea officially started operations of an electric tram unit in July of this year. The tram, originally developed by the Korean Advanced Institute of Science and Technology (KAIST) in 2009, is called the On-Line Electric Vehicle (OLEV), and is remotely powered by buried cables.
According to KAIST, the OLEV can run on an electric battery one-fifth the size of most electric cars, because the wireless charging cable system, buried roughly seven inches below the pavement, allows a near 80% power transmission efficiency.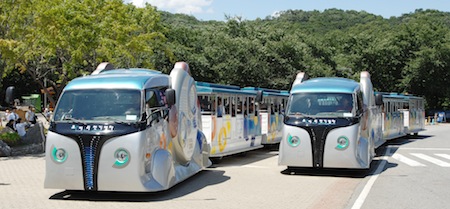 Over 1,000 feet of recharging strip was installed at the park, which is home to the Seoul Zoo, among other tourist attractions, allowing three diesel powered trams to retire as the more eco-friendly, electric vehicle units took over transporting visiting families.
KAIST says they are developing trams, buses, and SUVs that can be charged by electromagnetic fields when the electric cars pass over the buried cables. The institute hopes to expand the technology to places like Malaysia, Germany, Denmark, and the United States in the coming years.