Until this year's meet at the fabled Bonneville Salt Flats, no electric motorcycle had ever hit a speed of 200 MPH or over. On August 18 that mark was not just surmounted, it was smashed by Lightning Motorcycle.
In April, Chip Yates of the Swigz Racing Team clocked a speed of just over 190 MPH at an event at the Mojave Mile. Back at Bonneville this year after setting a previous record of 173 MPH, Lighting and Paul Thede (principal of Race Tech and the developer of the bike) wanted the record and he wanted to top 200 MPH. He got both on his Lightning, achieving an average speed of 215.960 MPH and a best speed of 218.637 MPH.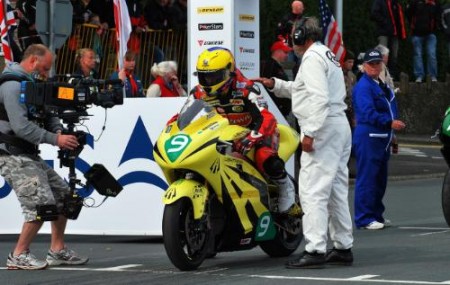 According to Lightning, the record makes the SuperBike the fastest production motorcycle available for sale in North America. The SuperBike features a Remy HVH250 electric propulsion motor, an Ener1 battery pack and additional enhancements.  It is factory equipped with track mapping data acquisition.  The SuperBike has a usable freeway speed range of over 100 miles and a combined city/highway EPA range of over 150 miles. Oh, and it prices around $40,000.
Not to be outdone, Yates has upped the output of his Swigz Electric Superbike to 258 HP (previously it was 240). He'll be at Bonneville shortly looking to likely upset the newly minted record. Just how fast is 218 MPH? A 747-400 airplane needs to reach speeds of about 175 MPH to take flight – does this mean lots of bug splatter on these guys as they rev down the track? We wonder.