Taxi stands and bus stops in Japan can now by lit by the sun, thanks to a partnership between Sekisui Jushi and Kyocera. The companies have introduced the Eco-Shell, which combines Sekisui Jushi's conventional multipurpose shelter unit and Kyocera's solar power generating system and energy efficient LED lighting.
And not only will it keep people dry (and well lighted), but the Eco-Shell comes with an outlet that allows it to be used as an emergency power source during emergencies.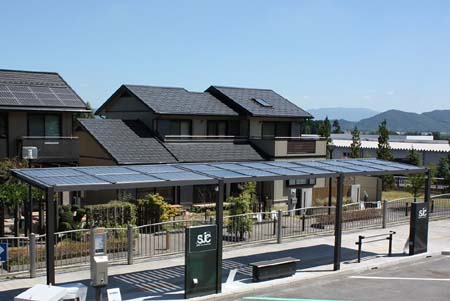 Besides reducing energy consumption and CO2 emissions – and the emergency use we mentioned – the shelter has other benefits: It can be used to meet surrounding electrical needs, like lighting up advertising displays, according to the companies. They also say excess energy can be sold back to power utilities, helping Japan better cope with post-Fukushima power shortages, especially during the hot summer months.
The product launched this month and is available nationwide in Japan, but, alas, only Japan.