Many of us desire an electric vehicle to call our own. But not all of us have the time to charge an electric car in the garage overnight–or even a garage to charge it in. Designer Daniel Fitzgerald of Melbourne, Australia, wants to change all that with the Remora concept car.
The Remora doesn't sit around overnight attached to a plug. Communicating wirelessly, the Remora lets the charging dock know its estimated time of arrival; when you pull up in this little electric, its hind end pops off, essentially, and gets replaced by a new one, containing a fresh battery pack. (This dedicated public charger apparently always has fresh batteries ready to go.)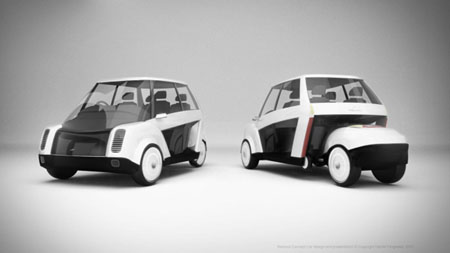 A few moments later, you're off to the races, running on cleaner, greener electricity.
This charging concept seems as if it could integrate nicely with the old gas station. Here at EarthTechling, we'd like to see these robotically-operated battery packs detaching and reattaching themselves to the cars of the future, and sending us on our way–perhaps with a robot window-scrub, for good measure.