Korea-based electric parts and vehicle manufacturer Leo Motors has announced that it will debut an electric sports car to compete with U.S.-based Tesla Motors near the end of this year. It's been a few months since we've reported on the company from Seoul, last noting that the business claimed to have found a way to increase range in electric vehicles, hybrids, and plug-in hybrids by using a zinc air fuel cell generator.
Calling its upcoming electric car the LZ-1, Leo Motors says the goal of the product is to create a vehicle that can drive 249 miles on a single charge, with a top speed of 161 miles per hour, using a 240 kilowatt electric motor. If the automaker succeeds, the LZ-1 will outperform Tesla Motor's Model S, which is set to be released to the public around mid-2012, in some areas.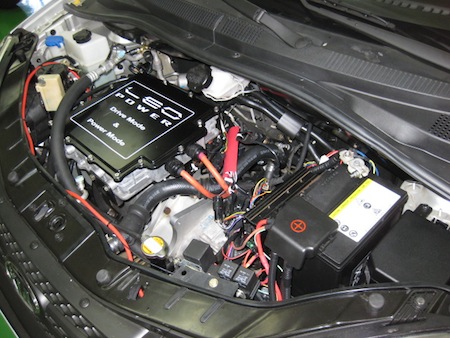 Leo Motors is also building a plug-in hybrid called the LZ-1H which will be powered by a mix of hydrogen and liquid propane gas that fuels a generator, which supplies the electric powertrain. The company says the hydrogen car will have a range of roughly 560 miles when completed.
Apparently not satisfied with simply gaining a slight edge over a company like Tesla Motors, John Lee, CEO of Leo Motors, says his company is attempting to create the world's fastest electric vehicle, one that can go from 0 to 60 miles per hour in just 2.9 seconds. The electric vehicle wars, it seems, have begun. May the best car win.
EarthTechling Reader Appreciation Week is June 13-17.  We're giving away awesome green gifts to Facebook fans and newsletter subscribers.  Participate in the green goodness by joining our newsletter and Facebook communities.