General Electric (GE) has unveiled a solar powered electric vehicle charging carport in Plainville, Connecticut that the company says will generate enough energy that it could power 20 homes for a year. The new project is being praised by Governor Dannel Malloy, who believes the multi-car unit will be an inspiration for other initiatives around the country.
The solar powered, large-scale charging station is said to have a 25 year lifespan, and will deliver 125 megawatt-hours of energy via 100 kilowatt DC power every year it's operational. Incorporating smart grid technology, and regulated by AC core equipment, the station will distribute power to six Level 2 units, enabling thirteen vehicles to be fully charged each day.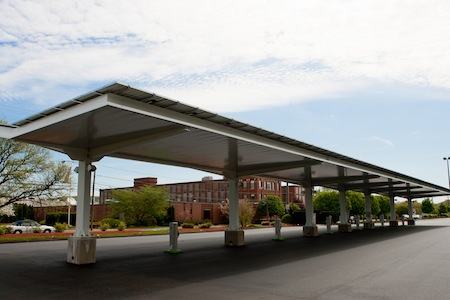 In GE's press release, the company points to the Electric Drive Transportation Association (EDTA), an organization founded by General Motors, Progress Energy, and Southern California Edison, which says 75% of Americans drive less than 60 miles a day. If that figure is correct, then a vehicle like the Nissan Leaf, which has a 100 mile range, would be suitable for millions.
We recently reported, however, that many drivers say they wouldn't purchase an electric vehicle because of limited range, and that infrastructure for mass rollout could be costly. Still, GE is on the right track by using a clean, renewable energy source to power electric cars. Hopefully other projects like this will continue around the United States.