Seattle, Washington now has at least thirty new electric charging units as part of The EV Project, a $230 million program to accelerate electric vehicle rollout, roughly half of which is being funded by the U.S. Department of Energy.
Six of the charging stations are publicly available at Qwest Field, home of the Seattle Seahawks football team, which is also equipped with a solar power system, low-flow water fixtures and energy efficient lights installed by the McKinstry company.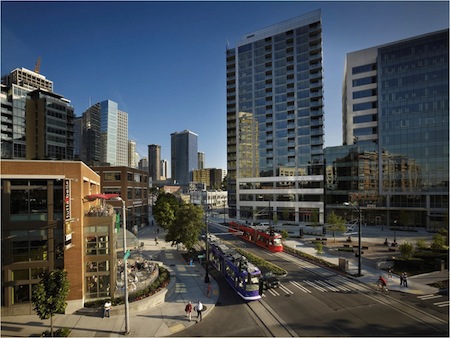 The other twenty-four electric chargers have been deployed north of Qwest Field in the up-scale neighborhood of South Lake Union in buildings owned by the Vulcan company, which holds interests in a variety of franchises, including the Seattle Seahawks.
All of the charging stations are Level 2, 240 volt Blink units, and add to the goal of having 14,000 total available across eighteen different major U.S. cities before the end of the year as managed by Ecotality. Roughly 1,000 of those stations are planned to be publicly ready in Washington alone; currently, under 1,500 units have been installed nationwide.