Electric motorcycle maker Brammo announced today a new European production facility now online and producing electric motorcycles for it. This increased output will help the company reportedly ramp up how many electric vehicles it is pumping out on a monthly basis.
Brammo said the Flextronics production facility in Sárvár, Hungary is capable of producing approximately 660 electric motorcycles a month and will initially produce the Enertia and Enertia Plus models for North American, European and Asian customers.Craig Bramscher, CEO and Founder of Brammo, stated that it will help them fulfill this year a significant number of customer and fleet orders – meaning the company likely is doing well at producing electric vehicles that people are enjoying riding, range anxiety or otherwise.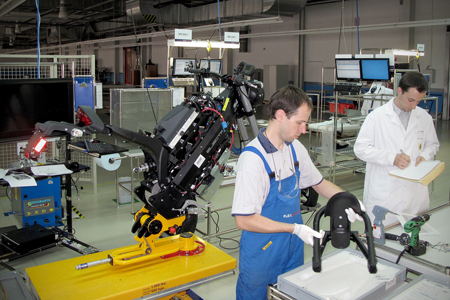 For those unfamiliar with Brammo's models, the Enertia Plus is an all-electric street motorcycle priced around $9,000. The vehicle sports an electric motor with peak motor power of 13kW @ 4500 rpm and a maximum torque of 40 N-m, 29.5 ft-lb @ 0 – 1450 rpm. It is powered by a 6.0 kWh Lithium Ion battery that takes up to eight hours to fully charge and lets the Enertia Plus go a maximum of 80 miles per day.
The Enertia, meanwhile, runs for around a $1,000 less than the Plus. For that dip in cost you get an electric vehicle with a top speed of 60+ mph and a range of 42 miles on a single charge.