Mitsubishi announced that the first of its i-MiEV vehicles in the United Kingdom has been delivered to the Thames Valley Police, and will be used for routine non-emergency duties, especially around areas where the public is more likely to see the car.
We've been following the new electric vehicle here at EarthTechling for a while, covering its specifications late last year, and recently noting its $20,490 price tag, after $7,500 federal government tax credit. The English Government is providing a similar incentive for the car in the United Kingdom, around $8,000 adjusting for currency exchange rate.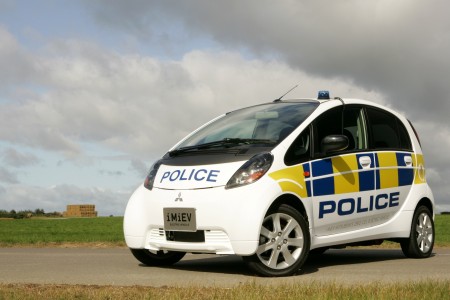 The i-MiEV comes equipped with a 16 kWh lithium-ion battery and a 49 kW rear-motor that gives the car a range of approximately 85 miles on a full charge, and a top speed of around 80 miles an hour. With performance specifications like that, the new electric car from Mitsubishi is poised to take-on a competitor like the Nissan Leaf, which has already started to slowly rollout in America.
The automaker already has plans to deploy the i-MiEV in several European countries. The company also stated that it plans to have 20% of its production be comprised of electric cars and plug-in hybrids by the year 2020.