We've covered a lot of interesting personal transportation products here at EarthTechling, like the YikeBike where a rider sits on the handlebars, an electric bicycle based on the design of a Swiss Army Knife, a wooden tricycle model from Buenos-Aires, and even a $3,000 pedal-assist bike from Hammacher Schlemmer. Forget those products, the new Gyroscopic Electric Unicycle called the SoloWheel BC, also from Hammacher Schlemmer, beats them all.
Some people may think that half the fun of a unicycle is trying to keep the darn thing from spilling you into the street, but the new electric unicycle making its way around the web has a series of gyroscopic sensors that calculate subtle foot movements and the rider's center of mass.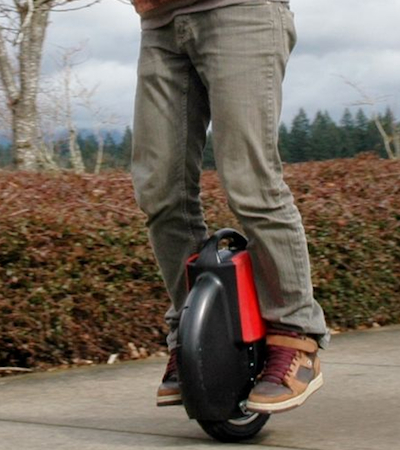 To propel the device, riders simply lean forward, much like a Segway. Equipped with a 1,000 watt electric motor and built-in lithium-ion battery, the SoloWheel BC can carry a person for up to two hours at 10 miles per hour, provided that person weighs only 160 pounds. The product can support a rider up to 250 pounds, but range for someone that large is not listed. The price for this modern marvel? A mere $1,800.