Chinese automaker BYD has announced that it will provide three hundred all-electric eBus-12 vehicles to the 2011 World Student Games in Shenzhen, China before August of this year.
We noted BYD has plans for a large electric bus fleet earlier this month when they released information about its taxi fleet. After providing the vehicles to the World Student Games, the buses will be incorporated into Shenzhen's city bus services to become the largest electric bus fleet in the world.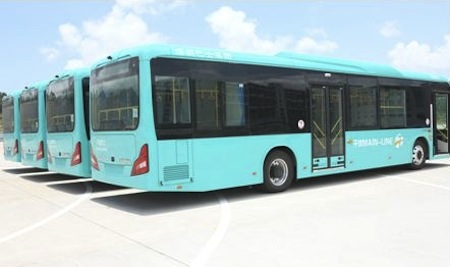 Earlier this year, we reported on an earlier design of BYD's electric bus called the K9, and pointed out the company had gotten a huge public boost by getting Warren Buffet to invest in the company. The eBus-12 seems to be an updated model of the K9, and has some impressive specifications.
With a range of over 180 miles on a single charge, the eBus-12 is powered by a iron-phosphate battery with additional energy reserves coming from the solar powered roof. The company says the battery can be charged to 50% capacity in only half an hour, but also points out that most charging is done at night to take advantage of off-peak times.