Coulomb Technologies has upgraded  its electric vehicle charging station network by allowing members to find and reserve units in advance when planning to travel long distances.
We've covered Coulomb and its ChargePoint system several times in the past, noting their iPhone app that was recently updated that allows users to see, according the company, real-time results for available units in the area. The company, which is supported by a $15 million grant from the U.S. Department of Energy, claims to be the world's largest charging station network and has a goal of installing 4,600 units by October of this year.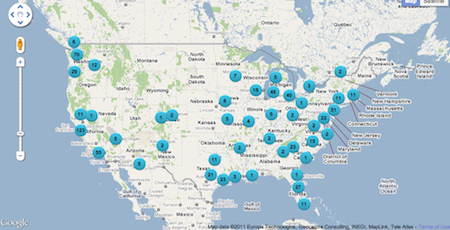 One of the biggest limitations electric vehicles currently have is that their range is limited; even new models like the Nissan Leaf can only travel 100 miles, at most, before needing to charge, a process that can take hours. But with Coulomb's new site, members can find and pay for their electricity needs before leaving home.
Theoretically, a driver in Portland, Oregon could drive to the coastal town of Lincoln City, located approximately 90 miles west, with just enough battery life to pull up to a pre-paid charging station, leave the car for a few hours while enjoying the beach, and then get a text message when charging finished. Not a bad way to plan for a short, green vacation.