Oregon-based electric automaker Arcimoto has been making a splash around the green community after its unveiling of a prototype, dubbed the Red 5, in Eugene with celebrity spokesperson Nathan Fillion. We first reported on the company when they brought an earlier electric vehicle model, the Pulse, to Portland in 2009.
Nathan Fillion's appearance at the company's press party certainly helped promote Arcimoto's latest version of the two-seat, three-wheel car called the SRK, but the concept has been in development for over three years. The SRK is available in 40 and 80 mile range options, and Arcimoto says a 160 mile model is on the way.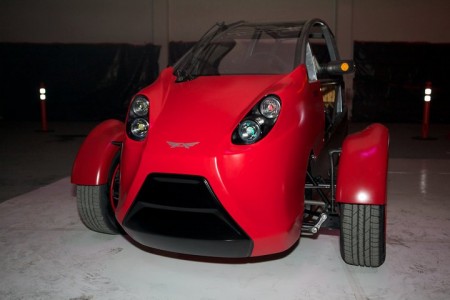 Equipped with a 144 volt lithium-ion battery and a 83 horsepower, synchronous DC brush motor, the SRK has a top speed of 60 miles per hour and comes in four different styles. The photo above shows the car without door panels or windows, however, hardshell windows, canvass windows, and panelled passenger windows are available.
Interested buyers can sign up for a $100 deposit, and the company says it is looking to keep the final cost of the SRK around $17,000 to $18,000.