Georgia-based automaker Wheego has announced that the first of its all-electric LiFe vehicles has been delivered to buyer Asma Henry through the Atlanta dealership Jim Ellis on Earth Day.
We last reported on Wheego last October when the company opened up dealership distribution, which has since grown to encompass retail locations in almost twenty states. The electric vehicle is priced at $32,995, but qualifies for a $7,500 federal tax credit, and up to $5,000 in the state of Georgia, which could mean Henry purchased her LiFe for just over $20,000.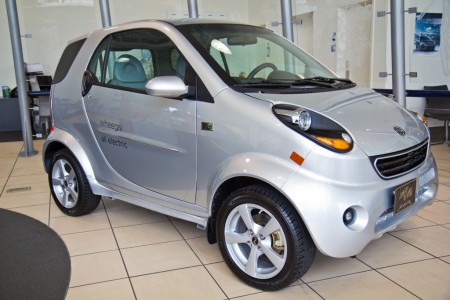 There's no telling whether the relatively low price-point of the car will entice buyers, as the LiFe is only a two passenger electric vehicle. Equipped with a AC brushless electric motor with a 60 horsepower peak, and powered by a 115 volt lithium battery system, the car has a range of approximately 100 miles and a top speed of 65 miles per hour.
The LiFe can be charged by a 120 or 140 volt outlet, or a J17772 electric charging station, and takes roughly five hours to reach full capacity. Overall, very nice performance specifications from the car, but again, it remains to be seen if American drivers will spring for such a small vehicle.