An eco-friendly beer truck? We'll drink to that! Steam Whistle Brewing based in Toronto, Canada, has recently added all-electric truck called RetroElectro to its line of vintage delivery vehicles, some of which already run off biofuels.
The brewery has been running off of clean energy from Bullfrog Power since 2007, and has several green innovations such as climate control, steam heat, waste water and many other programs listed on their website in more detail.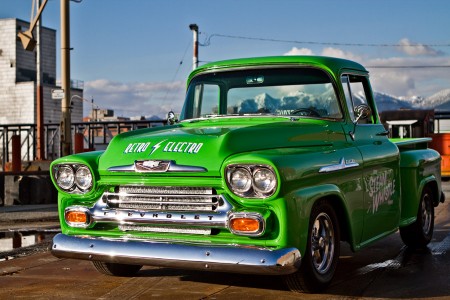 The RetroElectro is a 1958 Chevrolet Apache that has been upgraded with an AC motor from Azure Dynamics, a company we recently covered for converting vans in Norway, and again for modifying DHL vehicles in New York City. The electric hot rod is powered by 24 lithium-ion batteries and is stated to be able to generate 465 ft lbs of torque at 200 RPM.
The beer company has created a series of videos about making the truck, the third of which talks about the building process. You can see it below.