[Editor's Note: A previous version of this story inaccurately reflected pricing on the Roadster. EarthTechling regrets the error.]
Tesla Motors recently announced its Tesla Roadster beat more than 100 competitors at this year's Monte Carlo Alternative Energy Rally, securing the car as a serious sports car competitor. Driven by former F1 competitor Erik Comas, the vehicle was said to have covered more than 280 miles in one day of the race in Monaco.
According to the electric car company, the Tesla Roadster is the only electric car to have completed the course, the route of which travels over the Col du Corobin, a 4,000-plus feet pass, and along the same roads at the historic Monte Carlo Rally, which celebrates its 100th year anniversary this May.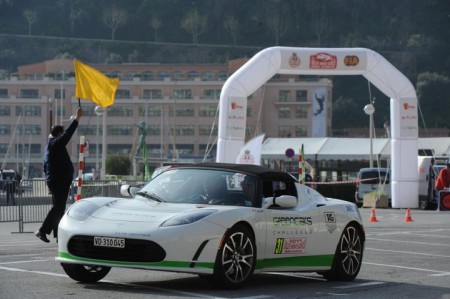 The Tesla Roadster is reported to have a range of over 200 miles on a single charge (Tesla records it as 245 miles, but results have varied), but in 2009 it drove over 300 miles on a single charge in the Global Green Challenge in Australia. The team returned to the continent this spring as we covered the company's publicity tour across the country.
The win in Monaco is another feather in the luxury automaker's cap, who recently announced its vehicles have driven a cumulative 10 million miles so far. An impressive vehicle, for sure, however, consumers wanting their own will have to shell-out over $100,000 for the base model of the high-performance electric vehicle, making the model a out-of-reach for the majority of buyers.
EarthTechling wants your opinion! Take EarthTechling's 3-minute reader survey and enter to win a $250 Amazon gift card.  The 2011 survey closes on April 15, 2011.