Nissan has announced that it's releasing a souped-up racing version of its popular Leaf electric car at this year's New York International Auto Show called the Nissan Leaf NISMO RC.
The company says the racing model of the electric vehicle is based on the production model of the car, still powered by a 48 compact-module lithium-ion battery, and equipped with 80 kW AC, 107 horsepower motor. But, the green racer has a variety of changes from the Leaf you can buy at a dealership.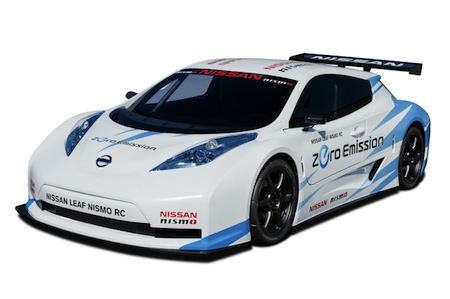 For starters, the racing model is made of a full carbon fiber bodywork, features only two doors, and is slightly wider and longer than the street version. The NISMO RC is also much shorter, lower to the ground, and weighs roughly 40% less than the standard Leaf at just over 2,000 pounds.
Nissan says the car can go from 0 to 62 miles per hour in 6.85 seconds, and can charge to 80% battery capacity in 30 minutes. With a top speed of 93 mph, the NISMO RC is hoping to be able to clock a full 20 minutes of track time when racing.