Kia Motors unveiled their new all-electric concept vehicle called Naimo at this year's Seoul Motor Show in South Korea. The car is named after the Korean word pronounced 'neh-mo' which means "square shape."
A four passenger, zero-emissions car, the Naimo is one of three electric vehicles Kia has released in a year's time. Featuring LEDs, a sunroof, Korean oak interior panelling, and "Han-ji" paper for the head-linning, the Naimo incorporates a few extras into the practical B-segment vehicle, which measures almost 13 feet long, nearly 9 feet wide at the wheelbase, and just over 5 feet tall.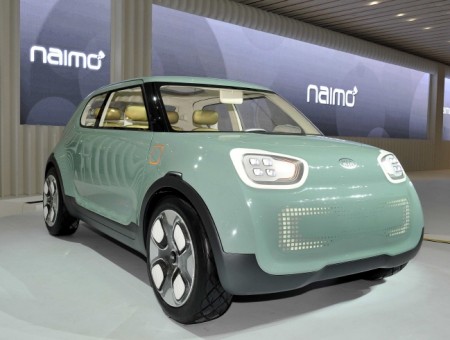 Equipped with a 80 kilowatt electric motor, and powered by a twin-pack, 27 kWh lithium-ion-polymer battery, the vehicle has a top speed of 93 miles per hour, and can travel up to 124 miles on a full charge. Kia claims the battery pack can reach an 80% charge in just 25 minutes if using the quick cycle feature, but notes that full charge time under typical settings is over five hours.
Last year, we reported on the company's sport-utility electric concept called the Venga, and again on the super-small, futurist Pop Electric. The Naimo seems to fall somewhere between those two vehicles to be primarily used as an urban passenger vehicle.
EarthTechling wants your opinion! Take EarthTechling's 3-minute reader survey and enter to win a $250 Amazon gift card.  The 2011 survey closes on April 15, 2011.