General Motors and the U.S. Department of Energy are supporting a three-year, collegiate engineering competition that challenges teams to reduce the environmental impact of a previously manufactured car without reducing performance and safety. The organizations announced the program at the SAE 2011 World Congress in Detroit, Michigan.
Calling the competition the EcoCar 2 project, each of the colleges' teams in the U.S. and Canada will receive a Chevrolet Malibu to test their ideas on. The technical goals of the project are to reduce petroleum energy consumption on the basis of total fuel cycle analysis, reduce fuel consumption, and reduce overall greenhouse gas and tailpipe emissions.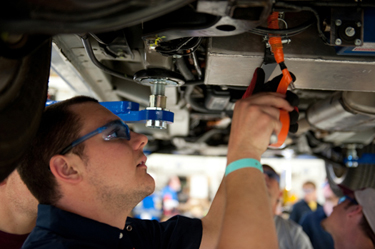 The challenge also calls for participating college teams to maintain consumer acceptability in utility, performance, and safety.
Participating colleges in the EcoCar 2 program are: California State University, Los Angeles, Colorado State University, Embry-Riddle Aeronautical University, Mississippi State University, North Carolina State University, The Ohio State University, Pennsylvania State University, Purdue University, Rose-Hulman Institute of Technology, University of Ontario Institute of Technology, University of Tennessee, Knoxville, University of Victoria, University of Washington, University of Waterloo, Virginia Tech, and Wayne State University.