The U.S Department of Energy (DOE), through the National Renewable Energy Laboratory (NREL), recently announced a $1.3 million dollar project to study and test secondary uses for electric vehicle batteries in a partnership with the California Center for Sustainable Energy (CCSE).
Cost of the program will be split between the DOE, paying for 51%, and CCSE partners, who include UC Davis, UC Berkley, UC San Diego, San Diego Gas & Electric, and AreoVironment. Currently, electric vehicle batteries can be extremely expensive to the consumer and the environment, but the study hopes to find ways to offset initial cost and delay recycling.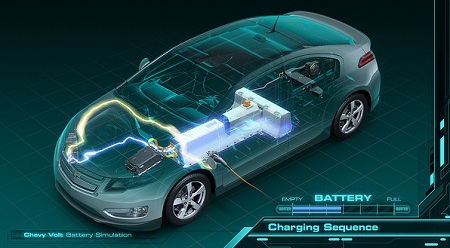 Focusing on lithium-ion batteries, the team will determine the potential for the used materials to be incorporated into electrical systems for residential and commercial management. One area the coalition will specifically target is the ability of batteries to make power for the grid from wind and solar resources.
Following initial economic and technical analysis, researchers will begin testing used batteries within UC San Diego's campus electric power grid. The goal of the study is to validate battery life, provide recommendations for design and manufacturing, identify necessary regulatory changes, and asses the cost benefit of battery reuse.
Other pilot projects, such as this one between Duke Energy and ITOCHU, are also look at second life potentials for EV batteries.
EarthTechling wants your opinion! Take EarthTechling's 3-minute reader survey and enter to win a $250 Amazon gift card.  The 2011 survey closes on April 15, 2011.