[Editor's Note: An earlier version of this story reflected Coda's planned test drive for its EV as being in the mall garage. We've since learned differently, as noted below.]
American electric vehicle start-up Coda has announced that it will open its first dealership location in a very unorthodox place for a auto manufacturer: the Westfield Century City outdoor luxury mall in Los Angeles, California. From the way this location is described, Coda perhaps looks to be trying to copy Apple and its successful retail outlet strategy.
We've reported on Coda several times in the past, noting the company's set backs and delays, but also the boost of investment capital that totaled around $200 million, and the addition of a former GM executive to the team. Still, we've speculated that the market for a new electric vehicle without the backing of a major manufacturing corporation, like the Nissan Leaf or Chevy Volt, may not be strong enough to support the start up company.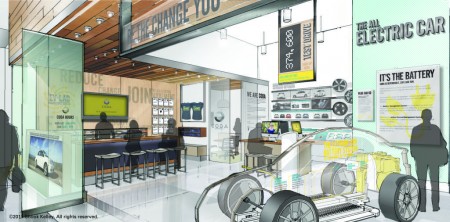 At the new store, interested buyers can see a full-scale replica of the car's battery and propulsion system, as well as test-drive the vehicle in what the company said to us is a "test-drive route" on normal roads.
The four-door vehicle can seat five passengers, is equipped with a 33.8 kWh lithium-ion phosphate battery, has a top speed of 80 miles per hour, and has an estimated range of 90-120 miles (depending upon real world conditions) when fully charged in a process that takes roughly six hours. The price is estimated at around $37,400, but that's after tax incentives – the true cost is $44,900.