It was over 60 years ago that the beloved Volkswagen bus, known as the Microbus in the United States, debuted as the vehicle of choice first for families on road trips and later for hippies. It faded into the background of automotive history over time, though one sometimes sees an old VW bus on the road. Now the iconic vehicle is making an electric style comeback at the Geneva Motor Show in the form of the Bulli concept.
The VW Bulli of today sports an electric motor and is described by the German automaker as a zero emissions vehicle. The motor outputs 85 kW of power and has 199 lb.-ft of torque. It gets energy from a lithium-ion battery with a maximum storage capacity of 40 kWh that offers a driving range of up to 186.4 miles and, in some circumstances, can be charged in less than an hour. It accelerates from 0 to 62 mph in 11.5 seconds, and its top speed is 87 mph (electronically limited).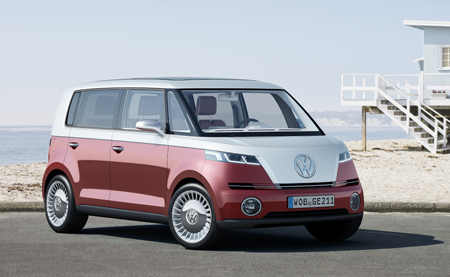 On the interior of this electric vehicle, VW has turned to the Apple iPad as the Bulli's infotainment system. It sits in the center console as a multifunctional touchscreen interface. It offers Internet-based applications and media control, along with handling other functions like hands-free Bluetooth and a navigation system. Integrated right on the iPad mount are controls for the climate control system and the centrally-located hazard warning switch.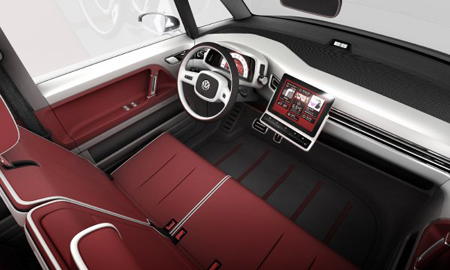 Also on the interior is a color multifunction display, semi-circular in shape, that can be used to view and control (via multifunctional keys in the steering wheel and on it) the navigation system, telephone, trip computer and media center – the entire unit of speedometer and multifunction display also communicates with the iPad. There's also a rotary switch to the right of the driver, which is used to activate forward and reverse gears., as well as a push button in the same switch is used to start and stop the motor.