Ecotality's residential EV (electric vehicle) charging station roll-out continues, this time in Tucson, Arizona. Its federally assisted EV Project announced recently the commencement of the next phase of its large-scale EV charging station installations. The news comes on the heels of a similar group of installations that was commenced in southern California earlier this month.
The EV charging stations are being provided free of charge to project participants that own a Nissan Leaf or Chevy Volt and have residences with electrical systems that can accommodate the Blink Level 2 chargers that the project is using. Ecotality has mapped out installations for areas in Texas , Tennessee, California, Oregon, Washington State, Arizona and Washington DC and plans on around 8,300 installations in total. The company said that its plans for commercial installations will be announced in the coming weeks.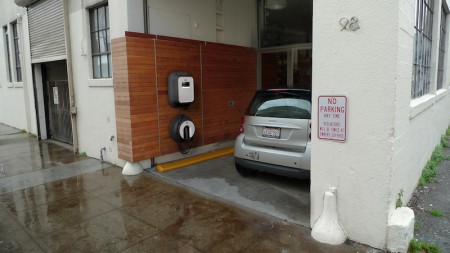 In exchange for the free Blink charging station and a $1200 credit toward its installation, Ecotality will be allowed to collect and analyze data from both residential and public chargers. With that information, they expect to be able to more effectively map out an EV charging infrastructure for future EV deployments.
The Blink Level 2 chargers being installed in and outside of project participant's homes are manufactured by Roush Industries in Michigan.  The charging station operates on a 240V AC circuit, features a 7″ touch screen and offers various network interface options that allow data to be shared  with the end-user such as charge status, charging station locations and availability and a trip planner.