The Automobile Club of Southern California recently unveiled twenty of Daimler's smart fortwo vehicles that will be used for a research project to test the benefits of the electric cars. The smart fortwo vehicles will be used by the club's roadside assistance, insurance claims, and automotive services teams to ensure the cars are tested in a variety of scenarios.
The cars are powered by a 16.5 kilowatt-hour lithium-ion battery and 30 kilowatt magneto-electric motor, and have an estimated range of about 60 miles on a full charge. Drivers in the program will provide day-to-day experience feedback to the Auto Club, and editors from the organization's magazine, Westways, will take the cars out for day trips and publish their results to the club's six million members.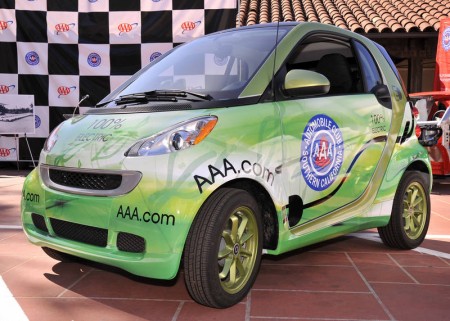 The American version of the smart fortwo was first reported last summer. The twenty models delivered to the Auto Club in California count as part of the total of 250 vehicles expected to be tested around the United States in 2011. The estimated retail price of the smart fortwo is between $20,000 and $25,000, depending on features.
Unfortunately, the smart fortwo isn't expected to be available for retail sales until 2012. But, at this year's Geneva Auto Show, Daimler debuted a new concept model, calling it the smart forspeed. Hopefully, the debut of a new concept model signals a serious commitment from Daimler to bring competition to larger cars like the Nissan LEAF and Toyota Prius, which have been dominating the American electric vehicle market.
We hope you are enjoying the green technology news and insight provided by our dedicated editorial staff. If you do, please take a moment to help us spread the word by voting for us as Best Environmental Sci-Tech blog in the annual Best of Green 2011 TreeHugger awards. Voting ends on April 1, 2011. Thank you!