Of the many fabulous designs set to showcase at Berlin Fashion Week this month, few of them, we imagine, would not look good beside a Roadster. Tesla Motors is set to test that hypothesis by shuttling models, designers and other VIPs to and from events in true zero-emissions, fashion-forward style.
The iconic electric sports car will also be featured with works by Julia Starp, a designer who creates women's wear with sustainable materials like organic cotton, "peace silk," hemp and bamboo. Starp's one-of-a-kind haute couture has graced Euro celebrities such as Birte Glang, Katja Flint, Sarah Maria Besgen, Tokessa Martinius and Viola Möbius. She said, in a statement, "I want to prove that fashion, beauty, individuality and comfort do not conflict with sustainability — and that's exactly what the Tesla Roadster demonstrates, too."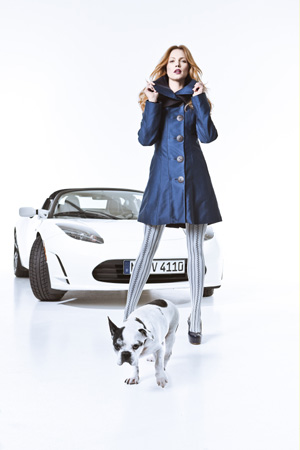 Tesla notes that Germany boasts more than 100 Roadster owners, who–thanks to the country's aggressively green stance on renewable energy–power their electric vehicles from one of the cleanest grids on the planet. Currently, the company has partnerships with a number of different European  fashion brands, including TAG Heuer, Bikkembergs and Belstaff.