Portugal has been among the European countries teetering on the edge of default – but that's not stopping it from playing a leadership role in the development of electric vehicles in Europe. In fact, the country just took delivery of 10 Nissan Leafs, one of which is going to Prime Minister José Socrates, making him the first head of government to go electric.
In a press release, the Portuguese agency running the EV program, MOBI.E, said Socrates "will now travel exclusively in the Leaf for his official travels around the capital city." This achievement was a nice hook for promoting the country's EV efforts, and Socrates took advantage of it, proclaiming "Portugal is the first country in the world to have a nation-wide smart grid for electric vehicles."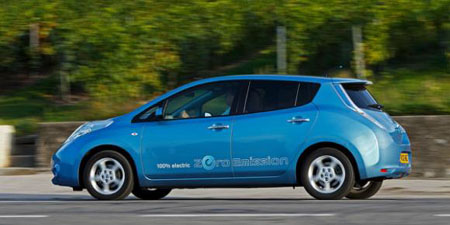 At least on the face of it, the country's progress is remarkable, given its tenuous economic state and its small population (around 10.7 million). Portugal has 50 charging stations installed and intends to have more than 1,300 – including 50 quick charging stations – in place by mid-2011.
The MOBI.E press release notes, as well, that 45 percent of Portugal's electricity comes from renewable sources, so a hefty portion of the power used to charge EVs in the country will indeed be produced with no emissions.
Like what you are reading? Follow us on RSS, Twitter and Facebook to learn more and join the green technology discussion. Have a story idea or correction for this story? Drop us a line through our contact form.