Last year, it was an outside look. This year, Tesla is giving North American International Auto Show attendees more of an inside peek at its Model S, the sedan that the company now says will begin production in mid-2012.
Tesla stripped down the Model S to show the electric vehicle's unibody, with suspension, battery and powertrain components. And the point, the company said, was to demonstrate the complete newness of their approach, one taken "without the restrictions imposed by traditional combustion architecture." The result, the company said, "includes superior aerodynamics, remarkable torsional rigidity and an in-house extruded aluminum suspension system." Also touted is the "marriage of the battery pack to the body structure" – attached to the underside – as a key development.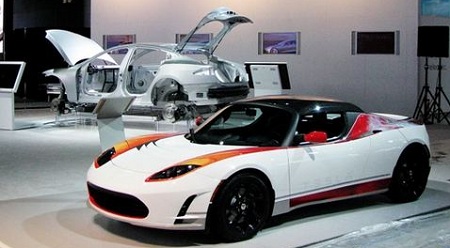 Tesla has been selling its Roadster since 2008, and the Model S is conceived as a way to reach a broader market. Whereas the Roadster has a base price north of $100,000, the Model S is expected to come in around $49,000. At the Detroit show, Tesla said it has taken more than 3,500 reservations for the Model S, which it will build at its factory in Fremont, Calif.
Like what you are reading? Follow us on RSS, Twitter and Facebook to learn more and join the green technology discussion. Have a story idea or correction for this story? Drop us a line through our contact form.