China may currently boast the world's fastest train, but the U.S. Department of Energy recently announced a partial loan guarantee for a $1.3 billion loan to support the world's largest wind farm, slated for eastern Oregon and set to serve up a whopping 845-megawatts of renewable energy annually.
The Caithness Shepherds Flat wind project–sponsored by Caithness Energy, LLC and GE Energy Financial Services–will use 338 GE 2.5xl wind turbines, making it the first in North America to do so. (The turbines have been successfully deployed in Europe and Asia.)  Once completed, the project will sell its power and renewable energy credits to Southern California Edison under a 20-year fixed price power purchase agreement.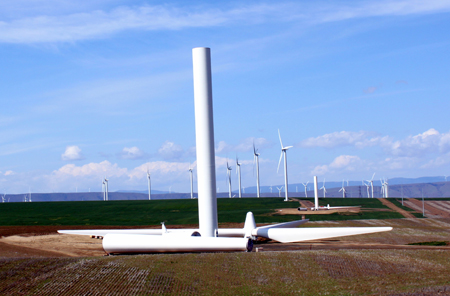 This project illustrates just what a driving force the strong California market for renewables under AB 32 has been in terms of getting big projects off the ground–and also, how much cheaper it seems to be for many companies to site such large-scale projects in neighboring states (the giant solar thermal tower slated for Arizona is another example). However, Californians won't be the only ones benefitting.
"This is a great holiday gift for Eastern Oregon and it couldn't come at a better time," said U.S. Senator Jeff Merkley, in a statement. "This financing from the U.S. Department of Energy will help put people back to work and continue Oregon's reputation as a clean energy leader." The Caithness Shepherds Flat wind project is expected to create hundreds of jobs and avoid over 1.2 million tons of carbon dioxide annually.
Looking for green gadget gift ideas for this holiday season? We have you covered with our annual Green Gadgets Holiday Gift Guide – check it out now!