No, really, they're serious.  The folks at Indiana-based Electric Motors and Vehicles Company (EMAV) think the way to conquer range limitations is to hitch a trailer carrying lithium-ion batteries and a four-cylinder, 750-cc diesel generator to your electric vehicle (EV). It's the PRU, the Power Regeneration Unit, and although it doesn't exist in prototype form — that will come in the first quarter of next year — EMAV says it'll be on the market in the second half of 2011.
It's hard to argue with Wil Cashen, the company founder and president, when he asserts, "We need to bridge the gap between low-range electric vehicles that can travel moderate distances to electric vehicles which can truly become the sole family vehicle." But you have to wonder if hitching what is essentially a hybrid to your EV is the way to do it.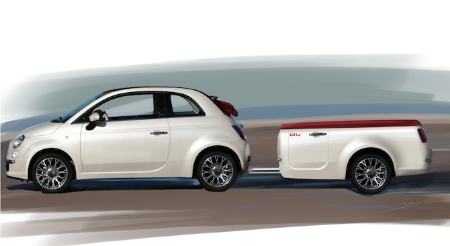 Cashen's company does have a background in building things that hook onto vehicles, as a "tier two supplier" to Mopar for its Jeep Off Road Camper/Trailer series. And the man understands that towing the battery and generator doesn't make sense, since that would require more energy from the EV — that's why the PRU is self-propelled, merely guided by the EV.
EMAV says the system, with a six-gallon diesel tank, would boost range by 700 miles. The company is reportedly eying a $15,000 price tag for the PRU, which, come to think of it, is almost enough to buy a second vehicle for long-range driving.
Would you like to get EarthTechling's Green News Buzz delivered to your inbox weekly? Sign up by November 12, 2010 and you could win a Voltaic Solar Fuse Solar Charger from EarthTechling.