California, it seems, is where new green car roll outs happen first–and now, Hertz has announced that it will be bringing the new electric Coda Sedan to select southern California agencies.
As the world's largest airport-based car rental agency, Hertz sees this as an opportunity to give the public a chance to "test drive" next generation electric vehicles (EVs), so to speak. The company plans to roll out its EV rental program with full-scale deployment in the United States and abroad beginning in 2011.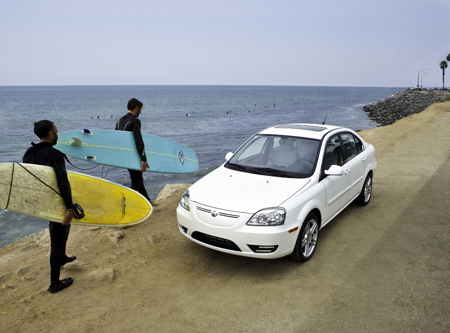 When it rolls out worldwide next year, according to Hertz, the CODA Sedan will be "the first mainstream all-electric car from an all-electric car company."  CODA's Sedan–featuring space for five passengers, a full-size trunk and a dependable 90-120 miles of range during any weather conditions–was specifically designed to meet the day-to-day needs of most Americans.  A full charge requires about six hours, and enough energy for a short, 40-mile commute takes an average of two hours.
The CODA Sedan will be joining electric vehicles from Nissan and other manufacturers as part of Hertz global EV fleet.
Looking for green gadget gift ideas for this holiday season? We have you covered with our annual Green Gadgets Holiday Gift Guide – check it out now!