GM, in its desire to get as many people as possible to love its Chevy Volt electric car, plans to hold a live educational event next week at its Detroit-Hamtramck Assembly Plant so middle school students in grades 5-8 can learn about "the prospects of the future of transportation in an interactive presentation featuring the Chevrolet Volt, the world's first mass-produced electric vehicle with extended-range capability."
The on site presentation, which will be webcast as well so classrooms around the country can watch, is scheduled from 1 to 2 p.m. EST on Nov. 9. It will provide a visit to the facility where the Volt is being built as well as "an interactive discussion with members of the Volt team. It will be followed with a live question-and-answer session, where the Volt team will interact with the online participants and students in the live audience."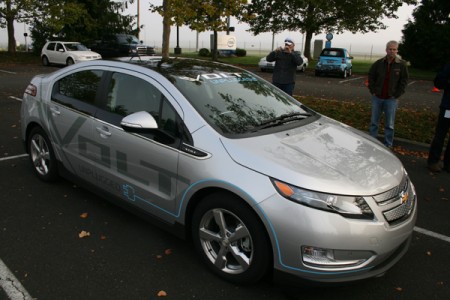 GM said its presentation links to the Michigan standard for introducing chemistry and electricity concepts in the classroom and also will be recorded for teachers who wish to share it with their students at a later date. Being made available for teachers as resources are a Teacher's Guide, three worksheets, a classroom poster and a take-home brochure, as well as student articles that are grade-level appropriate for K-4, 5-8 and 9-12 on science, energy and environment topics, with quizzes and games to reinforce learning concepts.
GM noted as well that those wishing their classes to take part in the presentation must register in order to get access.
Like what you are reading? Follow us on RSS, Twitter and Facebook to learn more and join the green technology discussion. Have a story idea or correction for this story you are reading? Drop us a line through our contact form.