Venturi Automobiles, a niche French automaker focused upon performance sports cars, is showcasing at the Paris Auto Show a rather unusual looking electric vehicle concept which looks somewhat like an off-road buggy one might find in deserts. It is called America – yes, like the country – and is described as combining both "the values of traditional America and those resulting from new awareness of ecological issues." Uh huh, ok – whatever you say.
Anyhow, the Venturi America, described also as a "high voltage" buggy, sports an electric motor with over 300 hp (+220 kW) and a torque of 380 Nm. A 54 kWh battery pack works in conjunction with this motor to offer the America a real range of up to 300 km. Top speed is around 180 km/h, and the vehicle takes up to eight hours to charge with a typical at home setup (three hours if one is using a fast charge solution).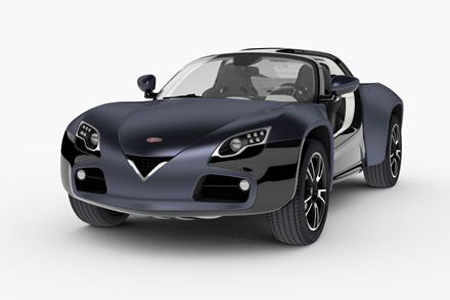 In keeping to its buggy roots, the Venturi America is actually classified by the maker as being "an all-terrain leisure vehicle" as well as an electric sports car. Its high body design and specific tire mountings help it to navigate steep paths in off-road situations. The body is of a carbon fiber material that keeps it lightweight .
Like what you are reading? Follow us on RSS, Twitter and Facebook to get green technology news updates throughout the day and chat with other green tech lovers.