Leave it to the Swiss (and the Germans) to optimize electric bus charging. The Opbrid Bůsbaar is a unique fast-charging system that allows electric buses to fully recharge in just 5-6 minutes, via a drop-down apparatus vaguely reminiscent of the good old fashioned electric trolley connection.
According to a recent release, many electric and hybrid-electric buses currently in operation can be upgraded to 100% electricity simply by installing this fast-charging system at each end of the route and outfitting the bus with AltairNano lithium titanate batteries. A quick charge at either end of the bus route will get the bus through the day with 100% pure electricity, as a cost-effective 'drop in' replacement for diesel buses, "all the while saving money and requiring no overhead wires."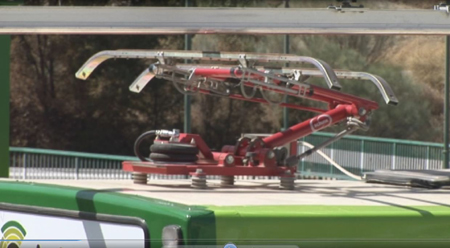 Based on technology originating in the European electric rail industry (and built by Swiss electric rail supplier Furrer+Frey and Germany's Schunk), the Opbrid Bůsbaar can be installed in days in any location and swings away from the road when not in use. The fact that all electrical connections associated with the system are placed overhead means an elimination of high voltage risks and minimum temptation to vandals. The system was designed to make it easy for buses to line up correctly underneath the apparatus, charge up, and get back on the road, in any weather.
Like what you are reading? Follow us on RSS, Twitter and Facebook to learn more and join the green technology discussion. Have a story idea or correction for this story you are reading? Drop us a line through our contact form.