Like most electric vehicles, this one covers less than 100 miles on a charge. But the Mitsubishi i-MiEV is traveling all the way across Canada. Why? To show off this brand new EV, naturally–and to raise awareness about zero emissions vehicles as a viable reality for Canadians' city driving needs.
The Clean Across Canada Tour started in Cape Spear, in St John's, Newfoundland, and will conclude a total of 28 days later, all the way over on Canada's left coast, in Vancouver, British Columbia. Along the way, the i-MiEV (which stands for Mitsubishi Innovative Electric Vehicle) will be recharged via the Eaton quick-charging system.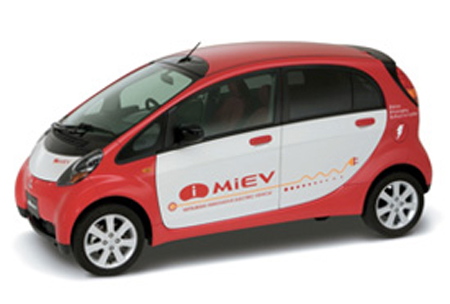 "For us, the Clean Across Canada Tour is our way of showcasing the technology and capability of this no compromise urban vehicle," said Koji Soga, President and CEO of Mitsubishi Motor Sales of Canada, in a statement. "The i-MiEV represents our values of renewable production, clean air technology, alternative fuel and conservation as represented by our tagline 'Drive@Earth'. These are the values that guide our Company and they were the values we held close in the development of the i-MiEV."
These are values apparently shared by Eaton, the primary sponsor of the Clean Across Canada Tour, which sees the event as a way to demonstrate "how Eaton is making the charging infrastructure for commercial and residential applications a reality and how users will not have to make lifestyle changes if they select an EV as their vehicle of choice."  The tour is currently ongoing; the progress of "Sparky" the i-MiEV can be tracked via the Clean Across Canada website.
Like what you are reading? Follow us on RSS, Twitter and Facebook to get green technology news updates throughout the day and chat with other green tech lovers.