It might not make New York City's nutritional watchdogs any happier, but the environmentalists should be pleased to hear that some of the snacks being delivered to retailers around town will soon be going out on electric vehicles.
Frito-Lay said five Smith Electric Vehicle trucks will begin servicing its routes in the city this month. The company promised to be using 21 of the vehicles around the country by the end of 2010, before leaping to 171 EVs in 2011. The company said this will give it the largest fleet of commercial all-electric trucks in North America.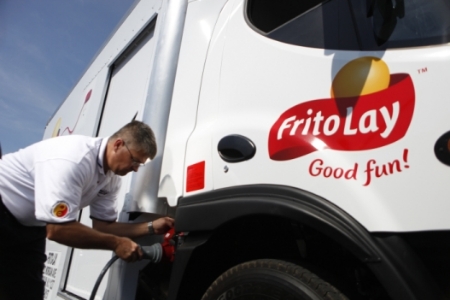 Frito-Lay said the New York State Energy Research and Development Authority chipped in with an unspecified grant to help make the Big Apple fleet a reality. It noted, too, that its "program aligns with Mayor Michael Bloomberg's PlaNYC, which is an effort to reduce CO2 emissions and improve fuel efficiency of cars and other vehicles in New York City." The Smith Electric Vehicle trucks are said to generate zero tailpipe emissions while operating for up to 100 miles on a single charge.
Of course, Mayor Bloomberg, while supporting green vehicles, is also battling to reduce the sodium in restaurant and packaged foods in New York. No word, however, on whether Frito-Lay will allow only its newly launched low-salt snacks onboard the EVs.
Like what you are reading? Follow us on RSS, Twitter and Facebook to get green technology news updates throughout the day and chat with other green tech lovers.