If you live in the West Covina, California, and commute via Foothill Transit's Line 291, which travels between La Verne and Pomona, you'll soon be doing so on an "Ecoliner, which is said to be the "the world's first heavy duty, fast charging electric bus."
Foothill Transit, the primary public transportation provider for the San Gabriel and Pomona valleys in Los Angeles County, is launching this electric vehicle courtesy of the American Recovery and Reinvestment Act, which funded the bus project in its entirety. Known as the Foothill Transit Ecoliner, it's an electric bus that will be driving 30 miles between charges. Quick charges will be accomplished by a hands-free mechanism incorporated into its route in just 10 minutes–about the time it takes a bus to change drivers at the end of a shift. These Ecoliners will recharge at the Pomona Transit Center at a drive-in docking station.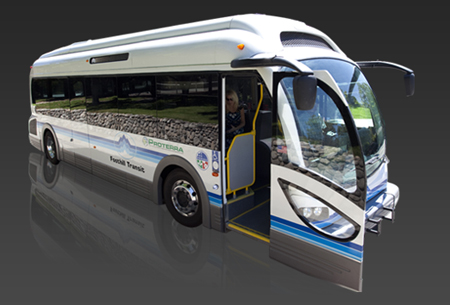 During the project's life, both Foothill Transit and Proterra LLC, the Ecoliner manufacturer, will monitor the Ecoliner's ability to handle the demands of a regular, stop-and-go transit route–with an eye, presumably, towards improving the technology involved and establishing a model that can be used elsewhere in the country.
"Recent rapid advancement in battery and vehicle technology has made this leading edge project possible," said Roger Chandler, Chair of Foothill Transit's Executive Board, in a statement.  "And the challenges that we face with our environment demand that we expand beyond what's available into what's possible.  This is the time and place for possibility.  Excited doesn't begin to describe how we feel.  This is history."
Like what you are reading? Follow us on RSS, Twitter and Facebook to get green technology news updates throughout the day and chat with other green tech lovers.